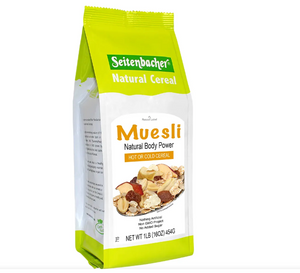 Love German Food
Seitenbacher Muesli Natural Body Power - No Sugar
Regular price
$7.45
$0.00
Unit price
per
A good German breakfast contains a Muesli. The German brand Seitenbacher is known for their different kinds of muesli. One is the

Seitenbacher Muesli Natural Power - Made in Germany

An all natural, high in fiber/protein muesli with a healthy combination of 5 different dried fruits, nuts and grains

It is made from high-quality, carefully selected non-GMO raw materials, that come straight from selected farmers. Does not contain soy.
Contains peanuts, apples, flax seed and more. Muesli is low in sodium and provides protein and fiber. It gives you everything you need to exercise and helps build your muscles. Enjoy as a breakfast cereal with milk, yogurt and fresh fruits or hot like oatmeal. 

NO SUGAR ADDED. 


Add some milk, or any plant based milk your choice, or yoghurt, and ready is the best muesli for a great start into a new day. It will provide you the needed energy until lunch time and beyond.

PRODUCT FEATURES
Made in Germany
No artificial Flavors
No additional Sugar Added
Non-GMO
All Natural
Amount: 27 oz
Best by 

Ingredients
Whole grain spelt, raisins unsulphured, peanuts, whole grain oats, sunflower seeds, barley flakes, apples unsulphured, puffed flaxseeds, psyllium shells.

MINIMUM PURCHASE: $20.00

Shipping - USA ONLY 
Shipping costs per weight will be calculated at checkout
If you buy 3 or more baking mixes you will profit from a lower shipping rate. 
Here is an Example: 
3 baking mixes shipped to California will be $9.85 (East coast, midwest states less). If you order just 1 baking mix shipping is at least $5.

For all questions see our Shipping & Return Policy
---
Share this Product
---