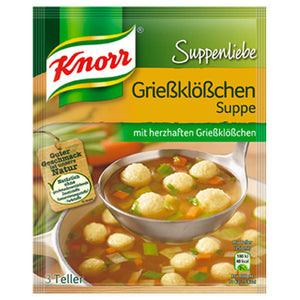 Love German Food
Knorr Griessklösschen Suppe - Semolina Dumplings Soup
Regular price
$1.99
Sale price
$6.00
Unit price
per
Reduced price - Best By date 1/23
Knorr Soups Made in Germany are different from the ones that you can get in the USA. They contains any chemicals and are all natural.


Knorr Griessklösschensuppe - German Semolina Dumpling Soup - Made in Germany
You will love this German Knorr soup!

It's a combination of selected mushrooms and aromatic herbs, mixed with a fine white wine note  that makes a delicious creamy soup - It's of Restaurant quality.


INSTRUCTIONS

Pour 2 cups (500ml) of cold water in a pan.

Bring water to a boil

Stir the content of the bag into the water, whisk well.

Let simmer for 10 minutes while stirring occasionally.

Place some fresh chopped parsley or chives into a bowl, then add the hot soup.
A good choice for Vegetarians 

INGREDIENTS
53% semolina dumplings (durum wheat semolina, vegetable fat, egg white, egg yolk, flour (rice, wheat), salt, nutmeg), yeast extract, iodized table salt, natural mineral salt *, 8% vegetables (3% leek, celery, 1.6% Carrots, onions), vegetable fat, salt, flavor, starch, sugar, chives, nutmeg.
* Contains less sodium than salt by naturally occurring potassium '' Legally binding and relevant are the details on the prepackage currently on the market"

From Food Company: Unilever Deutschland Postfach 570237, 22771 Hamburg 

PRODUCT FEATURES
1 package, 2oz or 56g
Made in Germany
Contains no sugar
Non-GMO ingredients - No artificial flavors - No MSG
No Preservatives
MINIMUM PURCHASE: $20.00

SHIPPING - USA ONLY 
Shipping costs per weight will be calculated at checkout (UPS, USPS)
If you buy 3 or more baking mixes you will profit from a lower shipping rate. 
Example: 
3 baking mixes shipped to California will be approx. $12.95 (East Coast, Midwest states less). If you order just 1 baking mix shipping can be at least $5.00 or more depending on the product. The weight of the baking mixes varies.
For all questions see our Shipping & Return Policy
---
Share this Product
---