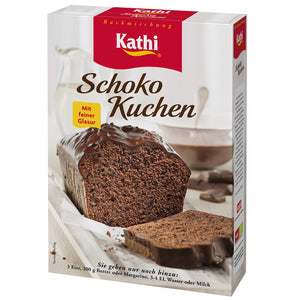 Love German Food
Kathi German Chocolate Cake - Authentic Schokokuchen 15.9oz
Regular price
$3.99
Sale price
$8.99
Unit price
per
!!! SPECIAL  $3.99  !!!!
The Kathi German Chocolate Cake - Authentic Schokokuchen is a special pound cake that you want to bake over and over. It's a rich cake not just for chocolate lovers. Everyone will love it. The rich and dark chocolate cake mix comes with extra chocolate chips and a smooth dark cocoa frosting. 
PRODUCT FEATURES
Glaze: Cocoa

Just add 3 eggs, 200g butter and 3-4 tbsp water

Made in Germany

Non-GMO ingredients

Low sugar content

All instructions, ingredients etc. in English SEE BELOW
INGREDIENTS
350 g Bake mix, 20 g cocoa 40 g chocolate, grated, 50 g cocoa glaze 
Good for a pound cake form (25 cm) or bundt cake form (Ø 23 cm)
Baking Mix: Wheat flour, sugar, raising agents (disodium diphosphate, sodium bicarbonate), flavoring, table salt. 4.3% cocoa
Grated chocolate 8.7% (minimum 32% cocoa), sugar, cocoa

Cocoa Glaze (10,9 %): vegetable fat, hardened (palm), sugar, highly de-oiled cocoa, emulsifier sunflower lecithin, flavoring (contains lactose)
NOTE: May contain traces of hazelnuts, egg and milk powder
sugar, cocoa, de-oiled cocoa may contains traces of soy


INSTRUCTIONS
1. Place baking mix, 3 eggs, 170 g soft butter and water into a bowl, mix briefly with a hand mixer. Then on high speed for 3-4 min until creamy.

2. Use a pound cake form (10 inches). Layer with parchment paper or grease with butter and dust with flour. Add dough into form, spread even.

3. Pre-heat oven to 160 c of 375 F. Place cake in oven on middle height rack.
 
4. After 15 min of baking time cut with a pointed knife the surface lengthwise for 1/2 inch (1cm). Bake for additional 35-40 min.

5. When done let cool off for some minutes. Release from form and place on a cooling rack.

6. Make the Glaze
Bring water in a pan to a boil. Remove from heat. Place glaze mix into the water for 5 min, glaze will become liquid. Cut bap open at one corner. Spread glaze evenly over the cake by using a baking brush.



About Kathi Baking Mixes
KATHI mixes are a testimony to the high quality, artisan German baking crafts, bridging the gap between German and North American baking traditions. These are the goodies that your grandmother used to bake on Sundays, with just the right quality, taste, moisture and texture, but without the fuss. Requiring just a few steps of preparation, Kathi mixes help the novice baker move beyond brownies, while offering time savings for accomplished cooks. KATHI mixes are available for cakes, cookies, tortes, muffins, biscuits and pizza dough. Plus, each mix features alternative recipe ideas on the package. From the award-winning innovator of cake mixes Kathi Rainer Thiele GmbH in Saxony Anhalt.


SHIPPING
USA only
Shipping costs per weight will be calculated at checkout (UPS, USPS)
If you buy 3 or more baking mixes you will profit from a lower shipping rate. 
Here is an Example: 
3 baking mixes shipped to California will be $12.95 (East coast, midwest states less). If you order just 1 baking mix shipping it is at least $5.00.


For all questions see our Shipping & Return Policy
---
Share this Product
---