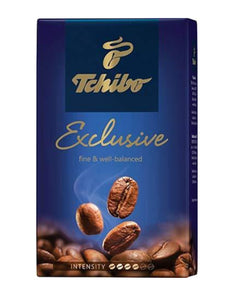 Love German Food
German Tschibo Coffee Exclusive -Imported from Germany - 8.8oz
Regular price
$8.99
$0.00
Unit price
per
A delicious German Breakfast contains also German coffee. We recommend
TSCHIBO coffee.

Tschibo, founded in Hamburg in 1949, has been successful from day one. In 1958 the coffee brand was the number one coffee on the German market. They had and still have their own Tschibo stores were you can get freshly roasted coffee.
Today the Tschibo products and coffeehouses have been established across the globe.
German Tschibo Coffee Exclusive - Imported from Germany
You will love this coffee! Enjoy it with a german breakfast or a piece of German cake.

Find easy cake recipes on our Blog- Section Recipes

PRODUCT FEATURES
Amount: 8.8oz or 250g

Fine and well balanced
Outstanding blend of Arabica beans rounded up with full-bodied Robusta beans. 
Imported from Germany
Contains no sugar
Non-GMO ingredients 
Each coffee variety is roasted separately to enhance their distinct flavors. Its delicate aroma and harmonic taste make it a special pleasure.

To create this coffee, the Tchibo coffee experts carefully roast specially selected coffee beans to a rich and full-aromatic coffee that you ca enjoy in every cup.

The fresh energy of Tchibo Family will get you going anytime throughout the day.

Pre-ground for suitable use in most coffee preparation methods including stovetop mokka and espresso makers, french press, and drip coffee makers.

Best by 8/3/2021

The Tchibo Promise:

We carefully choose the best beans and our special roasting gives each of our products its unique and amazing aroma and taste for your preference and way of preparing.
MINIMUM PURCHASE: $20.00

SHIPPING - USA ONLY 
Shipping costs per weight will be calculated at checkout (UPS, USPS)
If you buy 3 or more baking mixes you will profit from a lower shipping rate. 
Example: 
3 baking mixes shipped to California will be approx. $12.95 (East Coast, Midwest states less). If you order just 1 baking mix shipping can be at least $5.00 or more depending on the product. The weight of the baking mixes varies.
For all questions see our Shipping & Return Policy
---
Share this Product
---