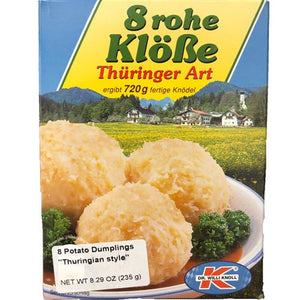 Love German Food
German Raw Potato Dumplings Mix - Makes 8 Dumplings - Dr Knoll
Regular price
$5.99
$0.00
Unit price
per
These raw potato dumplings or in German "Klösse" or "Knödel" are coarsely ground and perfect for any dish that is served lots of gravy such as beef Goulash or a pork/beef roast.  Find the recipe for Goulash below. 

Serve them with Goulash  - Go to the Recipe - 


German Raw Potato Dumplings Mix Thuringia Style - Makes 8 Dumplings from Dr Knoll

INSTRUCTIONS (in English on package)
Mix the content of 1 package with 500ml of cold, purified water.
Let sit for 10 minutes.
Moisten your hands  with water and form 8 dumplings.
Bring in a large pan water with some salt to a boil.
Place the dumplings carefully into the boiling water.
Bring water back to boil briefly, then reduce the heat so the dumplings will simmer for 20 minutes.
They are done when floating on the surface.
With a slotted spoon remove them from the pan and serve right away.
PRODUCT FEATURES
Amount: Mix for 8 dumplings 
Net Weight: 235 g
Made in Germany by Dr Willi Knoll GmdH & Co KG, Krumbach
May contain wheat gluten, egg, milk
Ingredients
Dehydrated Potatoes, potato starch, iodised salt, mono and diglycerides, turmeric,  preservative: sulfite, 
MINIMUM PURCHASE: $20.00

SHIPPING - USA ONLY 
Shipping costs per weight will be calculated at checkout (UPS, USPS)
If you buy 3 or more baking mixes you will profit from a lower shipping rate. 
Example: 
3 baking mixes shipped to California will be approx. $12.95 (East Coast, Midwest states less). If you order just 1 baking mix shipping can be at least $5.00 or more depending on the product. The weight of the baking mixes varies.
For all questions see our Shipping & Return Policy
---
Share this Product
Potato Dumplings - roh
I know they will taste great. Used to be able to buy them locally
---