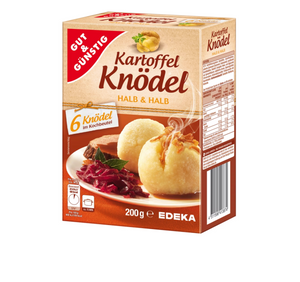 Love German Food
German Potato Dumplings Half and Half in Pouch-Edeka
Regular price
$6.99
$0.00
Unit price
per
NEW
German potato dumplings from EDEKA (the brand Gut & Günstig which means good and affordable) are a very popular side dish in Germany and are served mainly with a meat dish and a gravy such as pork or beef roast, Bavarian ham hocks, Goulash or Beef Rouladen. They are called half and half because half of the mixture is made out of raw potatoes.
German Potato Dumplings Half and Half in Pouch Edeka
The dumplings are in plastic pouches, so it's very easy to make them! Instructions in German only- see Instructions in ENGLISH BELOW:

INSTRUCTIONS
- Fill a pot with cold purified water and some salt. 
- Bring to a boil.
- Place the dumplings into the water, make sure they all are covered.
- Let dumplings boil for 1 minute.
- Reduce heat to low, let simmer uncovered for 15 minutes.
- Remove dumplings with a slotted spoon, rinse shortly under cold water.
- Release from the bags and serve right away. 

PRODUCT FEATURES
Amount: 6 dumplings in a pouch
Made in Germany
No Artificial Colors
Ingredients
Dehydrated Potatoes, Potato Starch, Salt, palm fat, Ascorbic Acid, Sodium Natriumbisulfite, Emulsifier: Mono- und Diglycerides, spices, Riboflavine.
May Contain Gluten, Egg, Milk.


MINIMUM PURCHASE: $20.00

SHIPPING - USA ONLY 
Shipping costs per weight will be calculated at checkout (UPS, USPS)
If you buy 3 or more baking mixes you will profit from a lower shipping rate. 
Example: 
3 baking mixes shipped to California will be approx. $12.95 (East Coast, Midwest states less). If you order just 1 baking mix shipping can be at least $5.00 or more depending on the product. The weight of the baking mixes varies.
For all questions see our Shipping & Return Policy
---
Share this Product
---