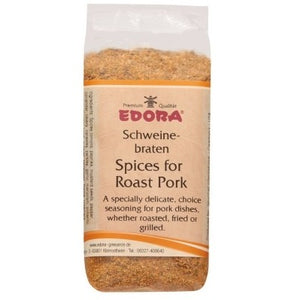 Love German Food
German Pork Roast Seasoning - Edora
Regular price
$6.99
$0.00
Unit price
per
This German seasoning mix of carefully selected premium herbs and spices will add the authentic taste to a pork roast that we call Schweinebraten in German.
Made in Germany by Eduard Dornberg GmbH in Bavaria, close to the Main river.
German Pork Roast Seasoning - Edora
PRODUCT FEATURES
Made in Germany
Non-GMO ingredients
No Artificial Colors or Fillers
No MSG or Preservatives
Gluten free
Lactose free
Vegetarian & Vegan 
Ingredients
Onions, paprika, coriander, pepper, mustard Seeds, caraway, parsnip, garlic, marjoram, pimento, Lovage, nutmeg, clove, celery, bay leaves, juniper berries, rosemary, thyme, mugwort, Sea salt. Salt Content: 19%



MINIMUM PURCHASE: $20.00

SHIPPING - USA ONLY 
Shipping costs per weight will be calculated at checkout (UPS, USPS)
If you buy 3 or more baking mixes you will profit from a lower shipping rate. 
Example: 
3 baking mixes shipped to California will be approx. $12.95 (East Coast, Midwest states less). If you order just 1 baking mix shipping can be at least $5.00 or more depending on the product. The weight of the baking mixes varies.
For all questions see our Shipping & Return Policy
---
Share this Product
---