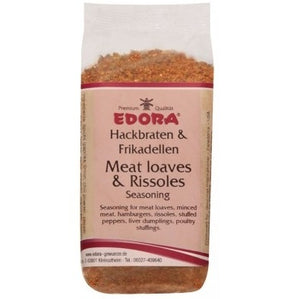 Love German Food
German Meat Loaf Frikadellen Seasoning - Edora
Regular price
$6.99
$0.00
Unit price
per
This German seasoning mix of carefully selected premium herbs and spices will add the authentic taste to meatloafs and the German Burger which we call in German Frikadellen or Buletten.
Add 3 tbsp to 1 lb of ground beef.
Use is also for meatballs, stuffed pepper, beefsteak, liver dumplings and fillings for goose or turkey. 
Made in Germany by Eduard Dornberg GmbH in Bavaria, close to the Main river.
German Meat Loaf Frikadellen Seasoning - Edora
PRODUCT FEATURES
Made in Germany
Non-GMO ingredients
No Artificial Colors or Fillers
No MSG or Preservatives
Gluten free
Lactose free
Vegetarian & Vegan 
Ingredients
Spices (paprika, onion, chili powder, pepper, smoked paprika (smoke, paprika), parsley, nutmeg, lovage, garlic, pimento, cumin, thyme, marjoram, rosemary, celery, cardamom, mustard seeds, oregano), Salt (26%).


MINIMUM PURCHASE: $20.00

SHIPPING - USA ONLY 
Shipping costs per weight will be calculated at checkout (UPS, USPS)
If you buy 3 or more baking mixes you will profit from a lower shipping rate. 
Example: 
3 baking mixes shipped to California will be approx. $12.95 (East Coast, Midwest states less). If you order just 1 baking mix shipping can be at least $5.00 or more depending on the product. The weight of the baking mixes varies.
For all questions see our Shipping & Return Policy
---
Share this Product
---