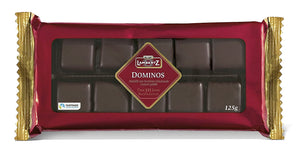 Love German Food
German Dark Domino Cubes - Dominosteine -Lambertz -4.5oz
Regular price
$5.99
$0.00
Unit price
per
AVAILABLE NOW FOR A LIMITED TIME
- Might be SOLD OUT IN OTHER SHOPS!

You will enjoy the double filled domino cubes that ares wrapped in the finest dark chocolate - a true highlight of the Christmas tradition. The aromatic filling with marzipan and jelly underscores the subtle gingerbread flavor. These dominos are in the Advent and Christmas season a "must have".

German Dark Domino Cubes - Dominosteine -  from Lambertz

PRODUCT FEATURES
Content: 125 g  or 4.5oz
Made in Germany
Vegan
Manufactured by Lambertz, Aachen, Germany
Non-GMO ingredients - No artificial flavors
Ingredients
Zucker, Glukose-Fruktose-Sirup, Kakaomasse, Apfelmark, WEIZENMEHL, Aprikosenkerne, Kakaobutter, Farinzucker, Feuchthaltemittel: Sorbit, Invertase; Invertzuckersirup, Geliermittel: Pektine; Säuerungsmittel: Citronensäure, Natriumcitrate; Apfelextrakt, natürliches Orangen-Aroma, Emulgator: Lecithine; Gewürze, Zimt, Backtriebmittel: Natriumcarbonate, Kaliumcarbonate; Kartoffelstärke.
MAY CONTAIN NUTS, PEANUTS, EGG, MILK, LUPINE, SESAME AND SOY.

Manufactured by Aachener Printen-und Schokoladenfabrik Henry Lambertz GmbH. 52072 Aachen Made in GERMANY _________________________________________________________
MINIMUM PURCHASE: $20.00

SHIPPING - USA ONLY 
Shipping costs per weight will be calculated at checkout (UPS, USPS)
If you buy 3 or more baking mixes you will profit from a lower shipping rate. 
Example: 
3 baking mixes shipped to California will be approx. $12.95 (East Coast, Midwest states less). If you order just 1 baking mix shipping can be at least $5.00 or more depending on the product. The weight of the baking mixes varies.
For all questions see our Shipping & Return Policy
---
Share this Product
---