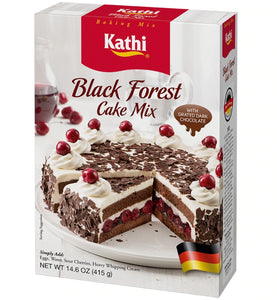 Love German Food
Kathi Black Forest Cake Baking Mix - Schwarzwälder Kirschtorte 14.6oz
Regular price
$9.45
Sale price
$19.00
Unit price
per
                       
BLACK FOREST TORTE - THE MOST FAMOUS CAKE OF GERMANY

With the Kathi Black Forest Cake Baking Mix - Schwarzwälder Kirschtorte you will be able to make this famous German cake in your kitchen.
The scrumptious dark chocolate cake is layered with sour cherries and whipped cream, and topped with premium dark chocolate shavings and cherries.
All dry ingredients are measured included in this kit (see details below).

Compare this Cake Mix with the ones on Amazon for $26.99
---------------------------------------------------------------------------------
NOTE: When sold out you can still place your order but it takes 5-10 business days until it will be shipped.
-------------------------------------------------------------------------------
PRODUCT FEATURES
Just add for the dough: 4 eggs 4 tbsp water, 600 ml heavy cream, 1 jar sour cherries (350g drained cherries), Kirschschnaps (optional)

Made in Germany

Non-GMO ingredients

Low sugar content

All instructions, ingredients etc. in English 
INGREDIENTS
260 g Bake mix, 80 g cherry filling, 30 g heavy cream mix, 20 g cocoa, 25 g grated chocolate

Baking Mix: Sugar, Wheat Flour, Wheat Starch, Emulsifiers (Acetic Acid, Lactic Acid (Milk)), Glucose Syrup, Skim Milk Powder, Raising Agents (Sodium Acid Pyrophosphate, Sodium Bicarbonate), Flavor,

Mix for Cherry Filling: Sugar, Modified Starch E1414, modified corn starch E 1422
Mix for Heavy Cream Filling: Sugar, Gelatin, Glucose Syrup

Cocoa 4.8% Powder de-oiled

Grated Dark Chocolate 6%: Sugar, Cocoa Mass, Lowfat Cocoa, Cocoa Butter, Emulsifier: Sunflower Lecithin 

NOTE: May contain traces of hazelnuts, milk and egg.
About Kathi Baking Mixes
KATHI mixes are a testimony to the high quality, artisan German baking crafts, bridging the gap between German and North American baking traditions. These are the goodies that your grandmother used to bake on Sundays, with just the right quality, taste, moisture and texture, but without the fuss. Requiring just a few steps of preparation, Kathi mixes help the novice baker move beyond baking brownies, while offering time savings for accomplished cooks. KATHI mixes are available for cakes, cookies, tortes, muffins, biscuits and pizza dough. Plus, each mix features alternative recipe ideas on the package. From the award-winning innovator of cake mixes Kathi Rainer Thiele GmbH in Saxony Anhalt.
MINIMUM PURCHASE: $20.00

SHIPPING - USA only
Shipping costs per weight will be calculated at checkout (UPS, USPS)
If you buy 3 or more baking mixes you will profit from a lower shipping rate. 
Example: 
3 baking mixes shipped to California will be approx. $12.95 (East Coast, Midwest states less). If you order just 1 baking mix shipping can be at least $5.00 or more depending on the product. The weight of the baking mixes varies.
For all questions see our Shipping & Return Policy
---
Share this Product
Easy as cake
The sponge is nice and dry, the cherry thickener is easy to use. The tort could be a little sweeter so I would add a bit sugar and a bit vanilla to the whipping cream. It makes it easy to make a wonderful tort. I also added several spoons of Kirsh to the sponge cake.
Making it for Christmas Day
Looking forward to my favorite dessert
---