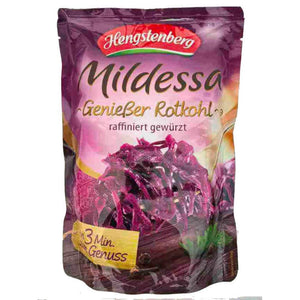 Love German Food
German Red Cabbage in Pouch from Hengstenberg - Made in Germany
Regular price
$1.99
Sale price
$4.99
Unit price
per
REDUCED Price - Exp. Date Dec/2023 - it will be good for 2-3 months



German Red Cabbage is the very popular dish from Germany and is the perfect side dish for Rouladen (beef rolls), goulash or a roast. The one from Hengstenberg is called "Geniesser Rotkohl" which mean Gourmet Red Cabbage. Available without apples or with apples.



German Red Cabbage in Pouch from Hengstenberg - Made in Germany
This Gourmet Red Cabbage comes in a pouch and is ready in 3 minutes. Just heat it and if you like add a splash of red wine, apples or fried onions. It's a bit on the sweet side so I personally add some vinegar, apples salt and pepper.


About Hengstenberg
It is Germany's leader in pickles and sauerkraut and their flavors are distinctive - every bite is crisp and delicious! Hengstenberg, located in Esslingen near Stuttgart, was founded in 1867 by Richard Alfried Hengstenberg who was a co-author of the 'vinegar purity law' which is still part of today's official food standards law. In 1930, the Hengstenberg company developed the world's first pasteurized sauerkraut, which preserved the mineral and vitamin rich cabbage while extending the product's shelf life. Today, the company offers a wide variety of pickled products and condiments, all known for the highest quality in the market.

PRODUCT DETAILS

Amount: 350g or 14.1oz pouch
Made in Germany by Hengstenberg, Esslingen
No Artificial Flavors
No Preservatives
Gluten Free and Vegan
Lactose Free
INGREDIENTS
White cabbage, salt, sugar, vegetable extracts (carrot, leek, celery), spices, onion flavor, natural flavors, ascorbic acid (antioxidant).


DIRECTIONS
Place the Sauerkraut into a pan and let simmer at medium heat for about 3 min.
Stir from time to time.
If you like to add onions, place chopped onions with some butter in a pan and fry until transparent, add some apple pieces, then the red cabbage.
MINIMUM PURCHASE: $20.00

SHIPPING

USA ONLY 
Shipping costs per weight will be calculated at checkout (UPS, USPS)
If you buy 3 or more baking or bread mixes you will profit from a lower shipping rate. 
Example: 
3 baking mixes shipped to California will be approx. $12.95 (East Coast, Midwest states less). If you order just 1 baking mix shipping can be at least $5.00 or more depending on the product. The weight of the baking mixes varies.
For all questions see our Shipping & Return Policy
---
Share this Product
---