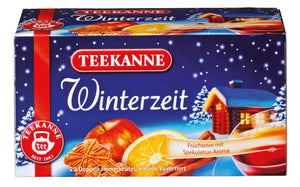 Love German Food
Teekanne Holiday Tea Winterzeit with Speculatius Flavor
Regular price
$5.45
Sale price
$6.99
Unit price
per
In 1882, Teekanne (which is German word for teapot) began as a family-owned company selling teas. It also was the first tea company that brought in 1929 tea in small bags on the market. The double-chamber tea bags used became hugely popular.
Today, the filter paper of the Teekanne flow-through bags is folded and closed without adhesives and the thread is knotted securely to the top of the bag in a patented procedure which avoids the use of aluminum staples.
Teekanne Holiday Tea Winterzeit 
You will love this tee!  It is a delicious flavor blend of sun-ripened fruits with the spicy taste of "Spekulatius" which is a German cookie that is thin, very crunchy, caramelized, slightly browned and, most significantly, have some image or figure (often from the traditional stories about St. Nicholas) stamped on the front side before baking; the back is flat. 

Enjoy this tea with a piece of German cake.  

Find easy cake recipes on our Blog- Section Recipes

PRODUCT FEATURES
Amount: 20 double-chambered tea bags

Caffeine free tea

Imported from Germany
Contains no sugar
Non-GMO ingredients 
Ingredients: 
Hibiscus, rosehip, cinnamon, apples, speculoos flavor, orange peel, blackberry leaves, elderberry, lemon peel, cloves.
MINIMUM PURCHASE: $20.00

SHIPPING - USA ONLY 
Shipping costs per weight will be calculated at checkout (UPS, USPS)
If you buy 3 or more baking mixes you will profit from a lower shipping rate. 
Example: 
3 baking mixes shipped to California will be approx. $12.95 (East Coast, Midwest states less). If you order just 1 baking mix shipping can be at least $5.00 or more depending on the product. The weight of the baking mixes varies.
For all questions see our Shipping & Return Policy
---
Share this Product
---