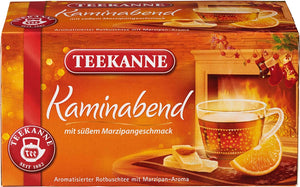 Love German Food
Teekanne Winter Tea Kaminabend with Marzipan Flavor
Regular price
$5.45
Sale price
$6.99
Unit price
per
In 1882, Teekanne (which is German word for teapot) began as a family-owned company selling teas. It also was the first tea company that brought in 1929 tea in small bags on the market. The double-chamber tea bags used became hugely popular.
Today, the filter paper of the Teekanne flow-through bags is folded and closed without adhesives and the thread is knotted securely to the top of the bag in a patented procedure which avoids the use of aluminum staples.
Teekanne Winter Tea Kaminabend with Marzipan Flavor
You will love this tee because it is a special tea that has the flavor and smell of marzipan (very subtle), and it is the perfect tea for a winter evening at the fireplace (Kaminabend means an evening at the fireplace).


Find easy to make cake recipes on our Blog- Section Recipes

PRODUCT FEATURES
Amount: 20 double-chambered tea bags

Caffeine free tea

Imported from Germany
Contains no sugar but sweetened with a little hint of Stevia 
Non-GMO ingredients 
Caffeine-Free
Ingredients
Rooibos, orange, cinnamon and marzipan flavor, orange peel, sweet blackberry leaves, cinnamon, stevia leaves

Preparation
MINIMUM PURCHASE: $20.00

SHIPPING - USA ONLY 
Shipping costs per weight will be calculated at checkout (UPS, USPS)
If you buy 3 or more baking mixes you will profit from a lower shipping rate. 
Example: 
3 baking mixes shipped to California will be approx. $12.95 (East Coast, Midwest states less). If you order just 1 baking mix shipping can be at least $5.00 or more depending on the product. The weight of the baking mixes varies.
For all questions see our Shipping & Return Policy
---
Share this Product
Marzipan Tea .
This is the BEST Tea I tasted in a long time , sweet enough that I don't have to add any sugar . I'm so happy I bought 2 boxes cause now my Friends love it and I share ..
---