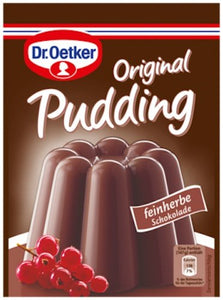 Love German Food
German Dark Chocolate Pudding Dr Oetker -Made in Germany - Pack of 3
Regular price
$6.99
$0.00
Unit price
per
This is the pudding of my childhood and nor the taste or the package has changed! It brings sweet memories back and in my opinion, it is  much better than the one manufactured in Canada.  It's the 
Original Chocolate Pudding Dr Oetker Made in Germany
You will love this pudding that can be used for desserts, pastries and cakes. The best is you can add as much sugar as you like! 

PRODUCT FEATURES
Content is 3 x 1.3 oz. (36g) packets 
Made in Germany
Contains no sugar
Non-GMO ingredients - No artificial flavors
Ingredients: Starch, 24% fat reduced cocoa, salt, vanillin flavor.
DIRECTIONS in English (on package only in German)
Mix the contents of 1 packet with 2 tablespoons of sugar (or to taste) and 7 tablespoons of cold milk.

Whisk very well (should not have any clumps).

Pour 1.5 cups (500ml) milk into a pan.

Combine milk with the pudding mix.

Bring to a boil while stir continuously (otherwise it will stick on the bottom of the pan). See how pudding will thicken.

Boil for one minute, then pour hot pudding into a lass bowl or bowl for dessert. Let sit for 3-4 hours so pudding can get firm.


Click here for More Detailed Info on How to Make Pudding
TIPS
If you use the pudding for a cake and it has to cool off, place a sheet of plastic foil on top of the pudding to inhibit skin building.
Rinse the bowl or bowls with cold water before adding the hot pudding.

MINIMUM PURCHASE: $20.00

SHIPPING - USA ONLY 
Shipping costs per weight will be calculated at checkout (UPS, USPS)
If you buy 3 or more baking mixes you will profit from a lower shipping rate. 
Example: 
3 baking mixes shipped to California will be approx. $12.95 (East Coast, Midwest states less). If you order just 1 baking mix shipping can be at least $5.00 or more depending on the product. The weight of the baking mixes varies.
For all questions see our Shipping & Return Policy
---
Share this Product
---